England

Spain

Germany

Italy

France

Netherlands

Portugal

Scotland

Brazil

USA

China
Tottenham fans fear Man Utd transfer target Harry Kane will be sold in summer after club's pre-season tour announcement
TOTTENHAM fans have been left with renewed fears that Harry Kane could be set to leave the club after a pre-season tour announcement. The future of Spurs' record goal-scorer is set to dominate transfer talk over the next few...
Oleksandr Zinchenko broke down in tears at Mikel Arteta exit and made private vow
Arsenal's left-back has confessed his emotions got the better of him when Mikel Arteta left Manchester City but the pair have since reunited and are gunning for the title
Wrexham squad from Ben Foster's first spell included future boss' son and keeper who's 57
Previously retired Ben Foster has returned to Ryan Reynolds' Wrexham - and during his first spell there, he played alongside his future manager's son and a 57-year-old goalie
Robbie Savage makes stand against concerning new rules with Macclesfield promise
The FA released their plans for non-league contracts this week to much anger - with an injured player set to lose full pay after 12 weeks when the £99.35-a-week statutory wage would kick in
England boss Gareth Southgate reveals conversation with Phil Foden after subbing him off after 11 minutes
The sub was subbed following Luke Shaw's sending off.
Explained: Could Barcelona really be banned from CL?
Sky Sports News' Kaveh Solhekol explains the possible implications of a UEFA investigation into allegations that Barcelona made payments to a company linked to a Spanish refereeing official. The club denies any wrongdoing.
Steve Clarke vows to keep Scotland fans 'entertained' after signing new deal
Clarke, who was appointed Scotland boss in May 2019, has signed an extension until after the 2026 World Cup campaign
Singer apologises for 'worst ever' England national anthem and explains why it was so bad
Supporters slammed Ellynora for her rendition of God Save The King ahead of England's win over Italy, with the national anthem being plagued by technical difficulties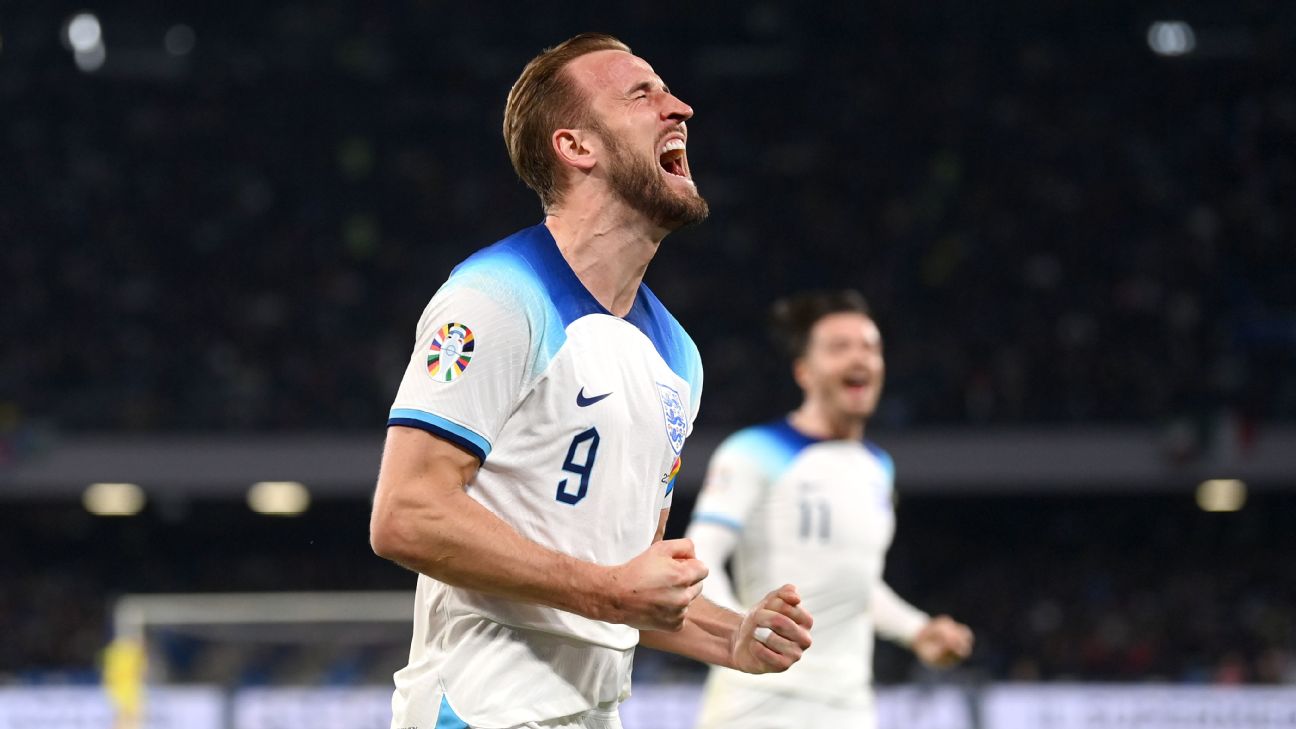 Kane breaks Rooney's England scoring record
Striker Harry Kane has overtaken Wayne Rooney to become England's all-time record goalscorer after reaching 54 goals in for his country.
Declan Rice hits back at Graeme Souness after Liverpool legend's 'limited' criticism
He launched his own defence.
Football News