England

Spain

Germany

Italy

France

Netherlands

Portugal

Scotland

Brazil

USA

China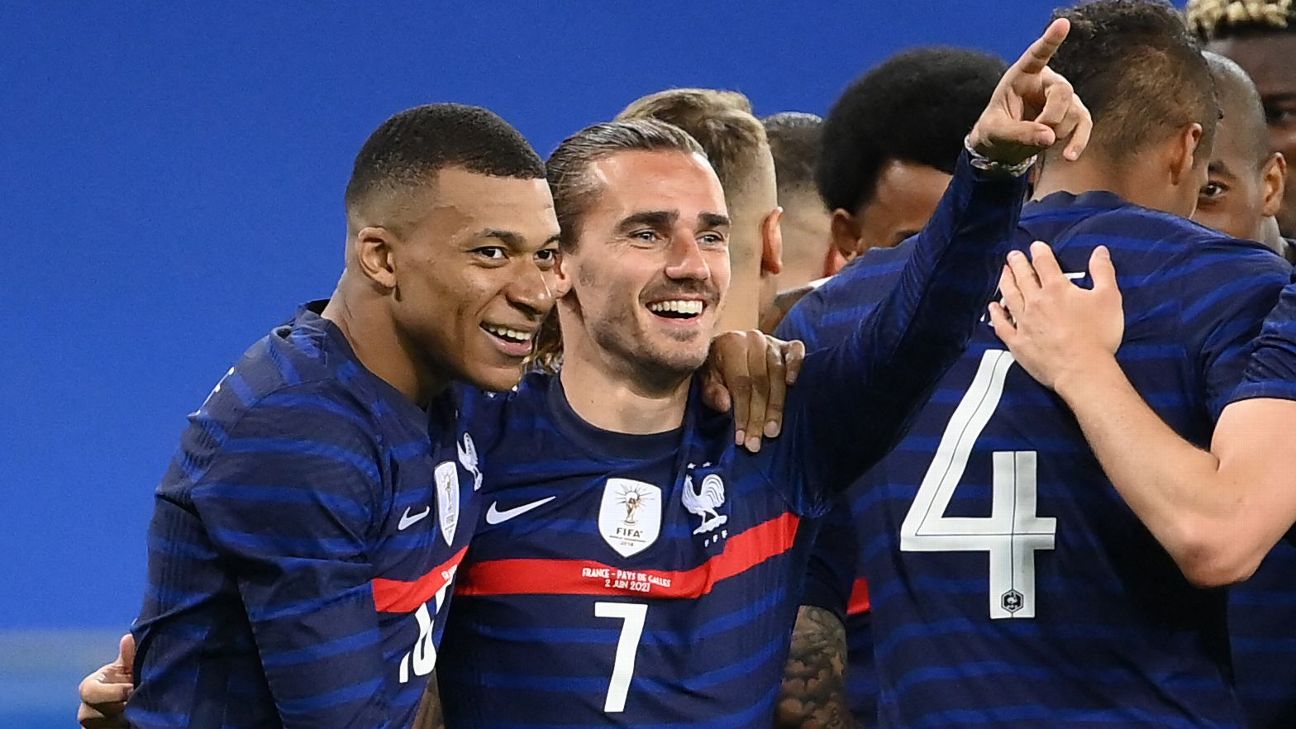 Mbappe: Griezmann reaction 'understandable'
France captain Kylian Mbappe rejected reports of rift with Antoine Griezmann, saying "I would have had the same reaction."
Joao Cancelo welcomes Thomas Tuchel to Bayern Munich with Man City warning
Bayern Munich are set to announce Thomas Tuchel as Julian Nagelsmann's replacement following the shock decision to sack the 35-year-old, despite a Champions League quarter-final against Manchester City being on the horizon
BT Sport's Jake Humphrey savaged over 5am LinkedIn post on 'world-class basics'
Jake Humphrey always wants to inspire the next generation to reach high and achieve their goals, but not everybody appreciates the BT Sport pundit's words of wisdom
Tuchel 'was in advanced talks to become Tottenham manager before Bayern swooped' – but Spurs fans have new target
TOTTENHAM were reported in "very close" talks with Thomas Tuchel over a deal to make him the club's new manager. Spurs are on the edge of sacking Antonio Conte after his rant about the club last week. Tottenham look...
Once the home of Carlos Tevez, Oscar and even Gazza, China's football revolution has come to a grinding halt
THERE'S a China crisis in football. Harsh Covid restrictions and the country's dawdling economy have seriously delayed president Xi Jinping's planned revolution in the game. AFP or licensorsCarlos Tevez spent a year playing in China for Shanghai Shenhua[/caption] AFPOscar...
Football fans think Antoine Griezmann deserves red card for wild 'candy floss' haircut
France forward Antoine Griezmann shocked fans with his bright haircut as he starred for Les Bleus in their victory against the Netherlands in Euro 2024 qualifying
Aaron Ramsdale highlights three new players key to Arsenal's title charge
Arsenal shot-stopper Aaron Ramsdale has explained how three of the Gunners' more recent signings could help get the club over the line in their pursuit of the title
Eight emotional footballing returns as Ben Foster rejoins Wrexham after 18 years away
Returning to a former club can give a footballer a fitting end to their career before hanging up their boots - but Ben Foster left it longer than most with almost two decades between Wrexham spells
England left with 18 outfield players after James withdrawal
Rob Dorsett says England manager Gareth Southgate will only have 18 outfield players to pick from for their match against Ukraine after Reece James withdrew from the squad.
Porn stars who go wild for English football clubs like Man Utd and Chelsea – and Derby fan with $1million penis
THE BEAUTIFUL GAME knows no bounds with even porn stars having their favourite teams. The Premier League in particular is a hit with adult entertainers with many of the biggest stars having a favourite top-flight team. Instagram / @miakhalifaMia...
Football News