England

Spain

Germany

Italy

France

Netherlands

Portugal

Scotland

Brazil

USA

China
Transfer news LIVE! Caicedo prefers Arsenal to Chelsea; Rice bid; Man United 'sign' Kim Min-jae, Kane latest
Latest news, gossip and rumours ahead of the summer transfer window
David de Gea 'on verge of new Man Utd deal' as fuming fans give up on Premier League title already
DAVID DE GEA is "on the verge of signing a new contract" – but some Manchester United have already given up on the title after hearing the news. The 32-year-old goalkeeper's current £375,000-a-week deal runs out in June. GettyMan...
VAR: The most controversial games of the Premier League season
We take a look at the VAR decisions that made headlines in the Premier League season and reveal how the Independent Key Match Incidents Panel viewed each incident.
Transfer News LIVE: Messi signing date set, Man Utd set for double swoop as Chelsea reach Ugarte deal
The FA Cup final signalled the end of the English domestic season on Saturday, but for all clubs the transfer activity continues with the summer window opening on June 14
Kaci wins UK Open Pool Championship at Copper Box Arena
Eklent Kaci claimed the UK Open Pool Championship after hammering defending champion Joshua Filler 13-4 in the final at the Copper Box Arena on Sunday.
Australia seamer Hazlewood out of World Test Championship final
Australia seamer Josh Hazlewood has been ruled out of the World Test Championship final against India, a game that comes just a week before the start of The Ashes series versus England.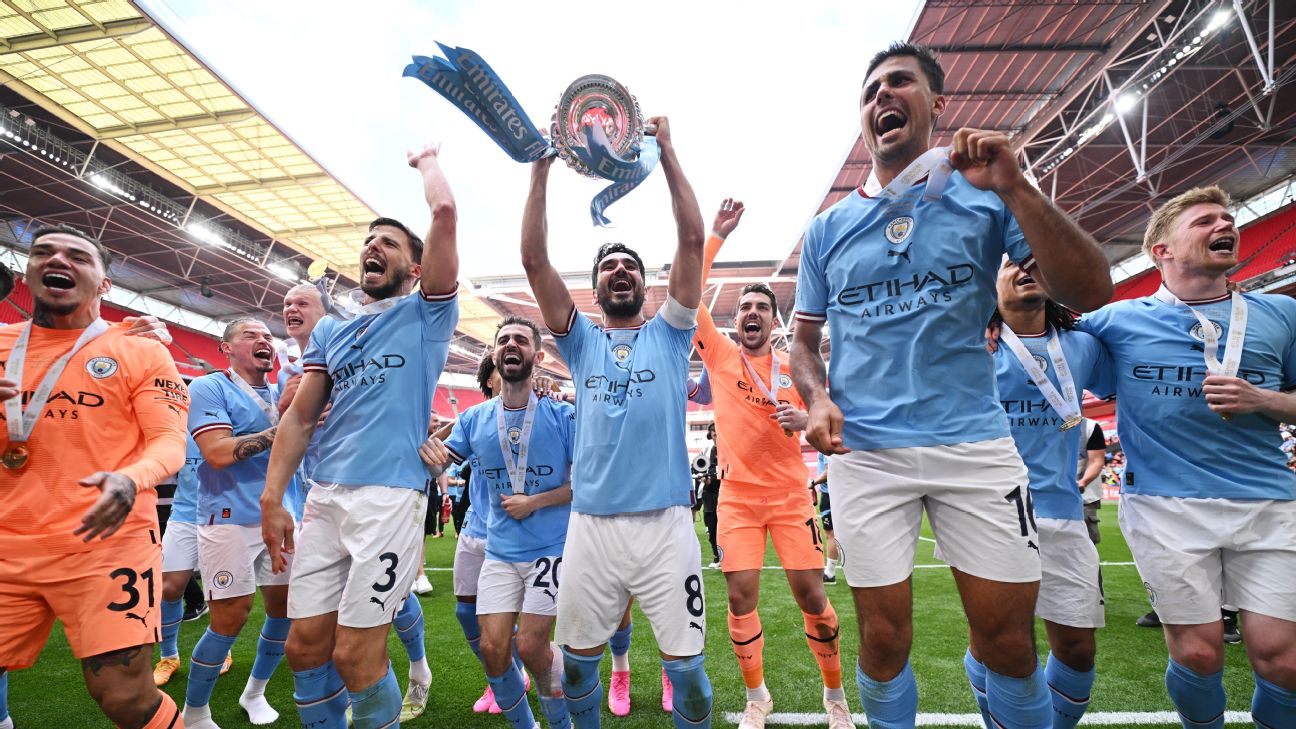 Man City's FA Cup win makes Treble triumph look inevitable
Premier League? Check. FA Cup? Check. All that's left for Man City now is the Champions League, and they're in peerless form after beating United.
How many times have Manchester City won the FA Cup?
United were dispatched at Wembley.
Serie A sides set for relegation play-off - and fans want it in the Premier League
Serie A fans have been left ecstatic as the season threw up another late twist on Sunday, with Spezia and Hellas Verona's defeats meaning they will have to fight for survival in a play-off
Ex-Crystal Palace cheerleader dies aged just 37 as Crystal Girls pay emotional tribute
Charlotte Duffy was a member of the original 'Crystal Girls' squad that performed at Crystal Palace fixtures, but the group announced the former dancer and model has died
Football News